Sustainability Challenge in Liverpool in April 2023
Are you interested in creating new concepts with international students to make the Eurovision Song Contest 2023 in Liverpool more sustainable? Then register by 12 February.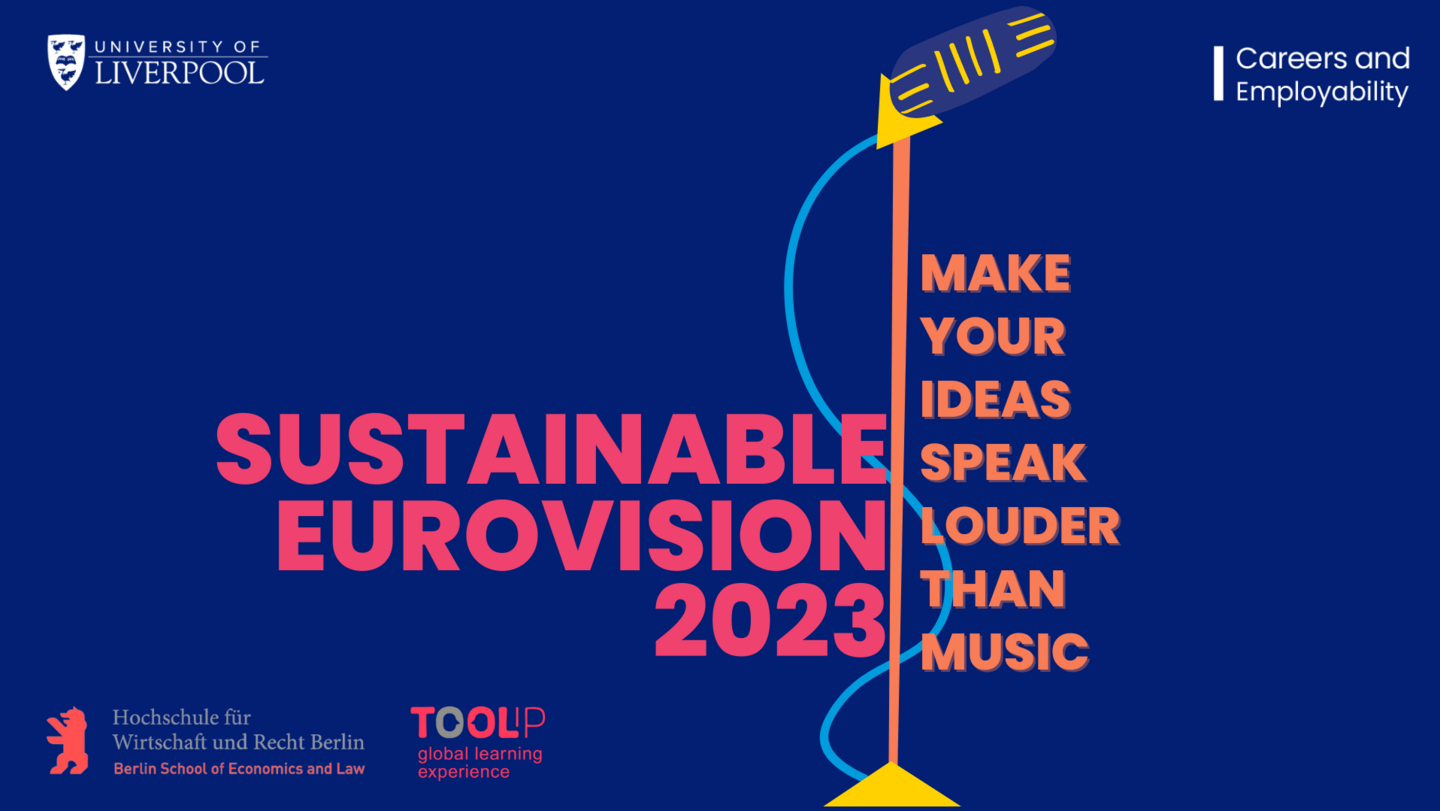 From 17 to 18 April, international students in Liverpool will create concepts to make the Eurovision Song Contest 2023 more sustainable. Graphics: University of Liverpool, HWR Berlin
You're interested in creating sustainable concepts for the Eurovision Song Contest 2023 with other international students? You want to improve your English as well as skills in project management, Design Thinking and giving presentations while gaining experience abroad? Then register by e-mail by 12 February 2023.
You will get:
A 431 Euro scholarship for travel and stay in Liverpool
A certificate of participation
Possibly 1,5 ECTS
Requirements:
You'll be present on 17.04. and 18.04.2023 in Liverpool, England.
You must travel by train. Information on travel options by train is available on request.
You register by the deadline until 12.02.2023
How to apply?
Send an email to toolip(at)hwr-berlin.de with the following information:
Your course of study and current semester
Your motivation for participating in three to four sentences
Your current Transcript of Records showing your average grade
That's why you should participate:
Make a difference − you will work together with students form the University of Liverpool on ideas and concepts for sustainability.
No prior knowledge or experience is required.
Learn about sustainability issues through various activities.
Practice important skills such as problem solving, creativity and presentation skills.
Perfect opportunity to network with international contacts.
If you have any questions:
You are interested? Do you still have questions? Then join our online info session on 01.02.2023 (10 am) and 06.01.2023 (6 pm) for more information:
Access to online meeting: https://meet.hwr-berlin.de/b/nie-3qu-zyo-2et
Access code: 940040
Might also be of interest to you: