This Year's Theme: International Spirit @ HWR Berlin
"International exchange is an enriching experience" - this is a core principle of our mission statement. Here you can find out how our aspiration turns into reality. Welcome to this year's theme "International Spirit @ HWR Berlin"!
In the academic year 2018/19 we focus on our mission statement's theme "International Spirit". Here you can find out what this is all about: read more about our international activities in our news and reports, catch up on events, or browse through our English degree programmes.
Photo Competition on Instagram

The second part of the theme year started with a photo competition which students, teachers and employees were invited to share their international spirit on Instagram. The three pictures with the most likes were awarded with an Amazon voucher of 50 Euro. The 1st place went to @robbs.life with 2578 likes. The picture was taken during a semester abroad in Buenos Aires. The culinary diversity of Bangkok from @same_same_but_too_different came in 2nd with 1663 likes. And on place 3, with 1095 likes, @davidelionetti enthused with the view from the Top of the Rock in NYC.
International (and other) aspects in numbers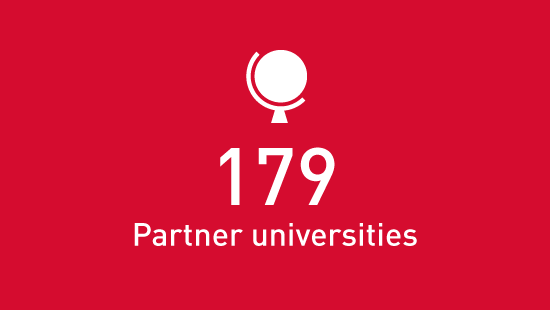 Where to find international activities? Our campaign logo shows you the way!
In order to visualize all our online and print content dealing with international aspects and activities at the HWR Berlin, we created a campaign logo to accompany this year's theme. The logo highlights the great variety of international aspects that define the profile of the HWR Berlin.
Videos with International Spirit