Career Lunchbreak digital – International@local
Are you looking for a graduate job or an internship? Take the opportunity to network and get to know potential employers virtually in our Career Lunchbreak sessions. Join the Career Lunchbreak with Doctolib, Knowbe4 and BASF on Wednesday May 18, 2022 from 1-2pm for a virtual information session.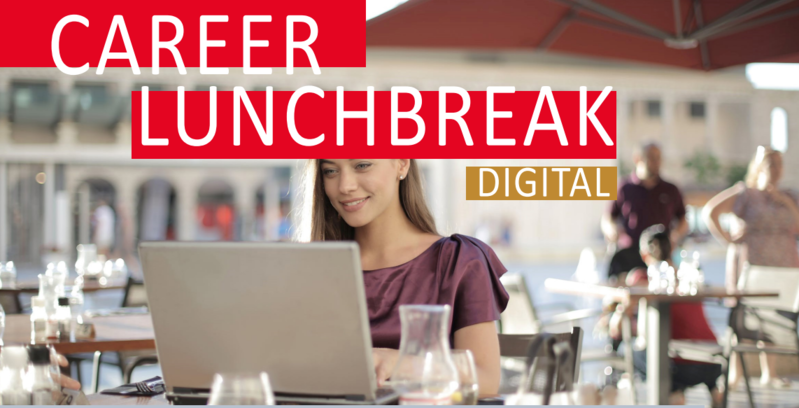 Learn more about the companies, what they do, and hear about career opportunities. There will also be plenty of time for Q&A in breakout sessions.
Meet 3 Berlin based companies providing an international working environment
Doctolib
Founded in 2013, Doctolib is the e-health leader in Europe. Doctolib improves the daily lives of more than 300,000 healthcare personnel thanks to innovative medical software. The company also makes access to healthcare fast and equal: more than 60 million Europeans book their appointments and manage their health via Doctolib, in a secure way. In over 30 cities of France, Germany and Italy, more than 2,300 Doctolibers are dedicated to having a positive impact on the healthcare industry.
KnowBe4
KnowBe4 is the world's largest security awareness training and simulated phishing platform used by tens of thousands of organizations around the globe. KnowBe4 enables organizations to manage the ongoing problem of social engineering by helping them train employees to make smarter security decisions, every day. They are a certified Great Place to Work in Germany and their award-winning company culture can be summarized in three rules: Do it right the first time. Do it fast. Have fun while you do it!

BASF Services Europe GmbH
As an international hub BASF Service Hub Berlin bundles a wide range of business services for BASF throughout Europe. In the heart of Berlin, they combine expertise in the areas of finance, human resources, communication, supply chain, procurement, product safety and IT. Having started with a small team back in 2005, their international team in Berlin today consists of more than 2,700 colleagues. They serve group companies in almost 70 countries around the world, speak in more than 26 languages with each other and embody an outstanding variety and wealth of in-depth expertise and entry-level positions. They focus on digital and customer-focused solutions and offer new ways of working.
Have your questions ready
There will be a 45 minutes info session with the three companies followed by small group breakout room sessions for your individual questions regarding opportunities, applying, qualifications, necessary experience etc.
Participation via BigBlueButton
Code: 811064
https://meet.hwr-berlin.de/b/wie-isq-eib
Please use your full name as your user name.
Please mute your microphone and do not share your video after entering BBB. You can unmute your microphone and share your video in the breakout room sessions.
We recommend using a headset.
Save the date
Who are the organizers?
The Career Lunchbreaks are brought to you by HWR Berlin's Career Service, Kontakte e.V., and GRW-Regionalmanagement der Wirtschaftsförderung Tempelhof-Schöneberg.
---
You might also be interested in:
---
Download the event information.