Study Abroad – plan your most exciting semester now!
The HWR Berlin makes it easy for students to study abroad in Europe or Overseas. At the International Days in May, students were able to obtain comprehensive and first-hand information.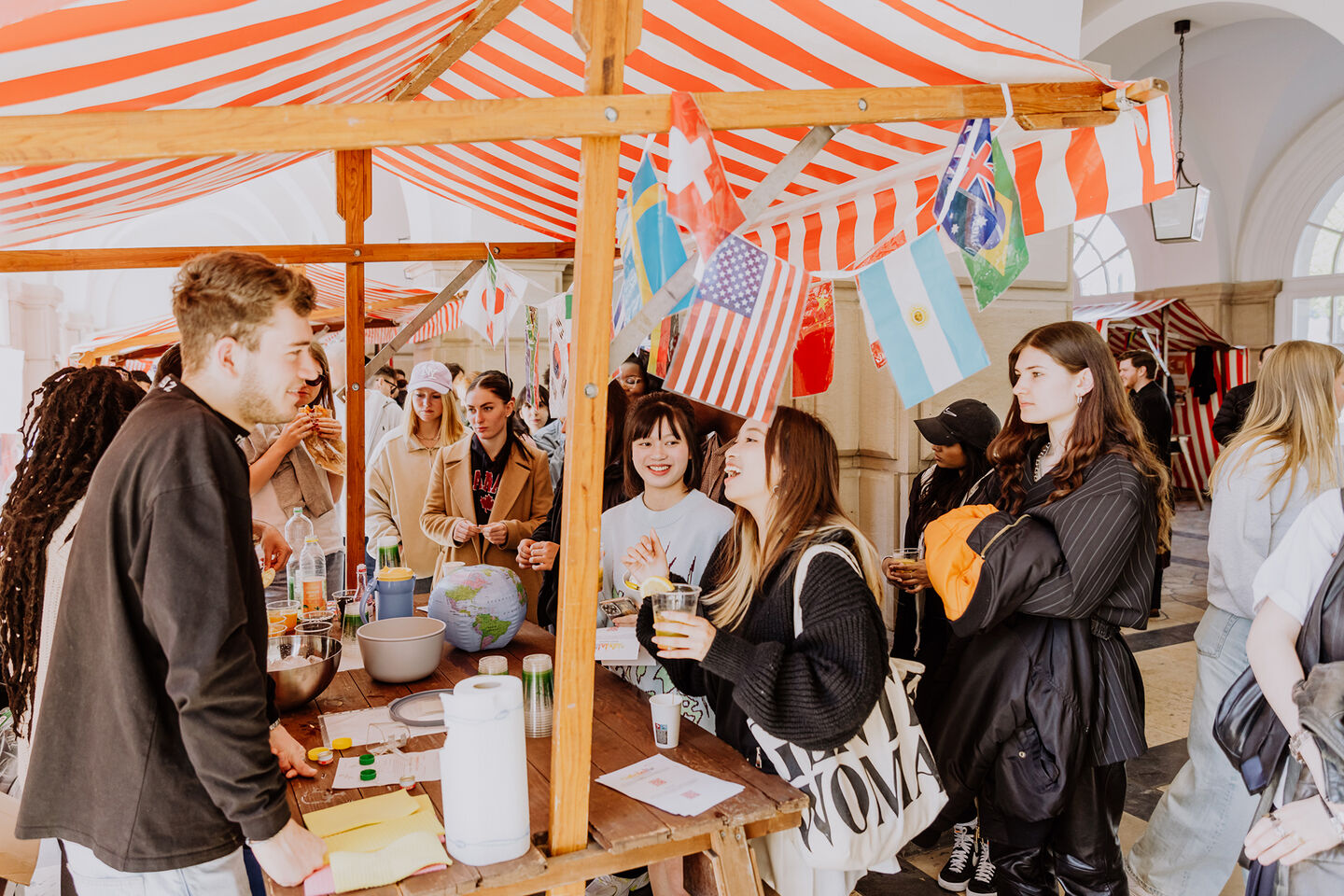 Information on studying abroad: International Days at the HWR Berlin 2023. Photo: © Florian Gruendig IMAGETOWN GmbH
On May 3rd, 2023, the International Office had a lively International Day with Summer Fest at the Campus Schöneberg. HWR Berlin President Prof. Dr. Andreas Zaby and International Office Director Ingrid Sperber opened the day with an inspiring speech about how a semester abroad helps students grow personally and academically. The Foyer of House B was full of international students at market stands telling about their home universities. HWR Berlin students could have a chat and an international snack at each of the stands. The AStA (student government group) stand was also quite popular, as they were giving out free ice-cold summer drinks and inviting students to come to their soon-to-be founded International Club. Later in the day, all students were invited to join in on the Speed Networking event with returned HWR Berlin students.
On May 4th, 2023 the International Days continued online with webinars telling about the great Double Degree programs and the many scholarships the HWR Berlin has to offer, especially those for ecological travel and students with special circumstances. Also, many students took part in the presentations on how to apply and language requirements. In the afternoon, the International Club had its Kick-Off gathering at the new opening of the Café Geschmacklos from the AStA.
More than 400 students took part in the International Days with Summer Fest.
The Summer Semester 2024 application phase has ended, though there may be a second application phase around the end of June. Find out more here. The next application phase is in the Fall starting at the beginning of November for Winter Semester 2024/2025.
On May 15th the International Office of Campus Lichtenberg had their International Day. Departments 3, 4 and 5 started the application phase for Summer Semester 2024. Here you can find the Study Abroad and Internship Abroad presentation. The deadline is June 14th, 2023 at 12:00. Apply here! The International Office of Department 2 had Internship Abroad focused presentations. Here you can watch them again.
You may also be interested in: