German-Tunisian Forum for Public and Private Management
Project manager: Prof. Dr. Oesten Baller
Promoted by: by the German-Arab transformation partnership with the Federal Foreign Office programme
Project duration: 1 April – 31 December 2014

Project description
Within the framework of the German-Tunisian Forum on Higher Education Cooperation in Tunis between 2 - 5 December 2013, funded and organized by the German Academic Exchange Service (DAAD) , Prof. Dr Oesten Baller and Mechthild Bonnen, Director and Coordinator of the IMO at the HWR Berlin, initiated promising contacts with Tunisian universities. From this the network of "German-Tunisian Forum for Public and Private Management" was developed. Within the framework of the Forum two activities could be put into practice in 2014.
From 28th September to 5th October 2014 there was a study tour for the Tunisian partners on the BSEL Lichtenberg Campus on the theme "Public Private Partnership (PPP)". In Tunisia, the revised law on PPP is currently under discussion.
The 14 Tunisian participants who attended the study tour were professors and students from the University Tunis El Manar, the Tunis Business School at the University Tunis, the Tunis Higher Institute of Management and the Ministry of Higher Education and Scientific Research.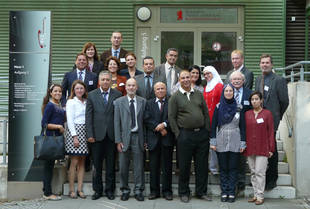 (Kopie 2)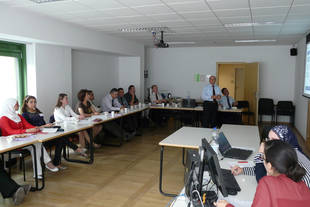 (Kopie 3)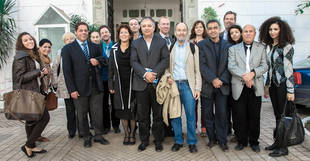 (Kopie 4)
The study tour included a three-day conference where participants were familiarised with the central concept of cooperation between public and private stakeholders and they also discussed cultural and legal differences between the two countries. Additionally there were various excursions in Berlin and Brandenburg over two days to PPP projects, including: the Federal Ministry for Education and Research, the Brandenburg state parliament, Charité Facility Management and SeeCampus Niederlausitz.
From 4 to 9 September 2014 professors as well as students of the HWR Berlin travelled to Tunis for a three-day conference to deepen the discussion on public-private partnership and to plan future projects. In addition to the conference, practical visits also took place in Tunis.
As a result, a joint publication in the series of the IMO is being planned at the Berliner Wissenschaftsverlag.